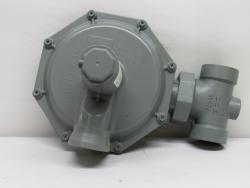 Like others in our family of service regulators, our Domestic 143-80 models are built to perform. They feature precise pressure control and outstanding performance and dependability. These regulators are also available with a low-pressure cut-off.
The Domestic 143-80 design offers smart features, including an internal relief valve as well as union nut connection, which does not require bolts or screws to connect the body to the diaphragm assembly. This enables the regulators to be set in virtually any position for excellent field versatility. They are simple, rugged and precise regulators that deliver outstanding performance.
Domestic 143-80 service regulators are used for both residential and small commercial and industrial applications, such as burners, furnaces, ovens, heaters, gas engines and others. They are available with a variety of body sizes, loading springs and orifice sizes. These compact regulators provide the outlet pressure ranges and the capacities to fit most applications for a 6″ service diaphragm regulator.
Although mainly used with natural gas, these regulators perform equally well when used with air, LPG, dry CO2, propane and other non-corrosive gases.
Dimensions:
1 in × 1 in × 1 in